"Formed in 1981, FATAL RAGE was the hardest, fastest, and most outrageous of the "Shorecore" bands. Fronted by the outspoken Jack Monahan (Jacko), the RAGE soon got a reputation for wild performances and terrorizing unsuspecting clubs with performances that immediately turned into nonstop slamfests. They had no problem finding an audience - the problem was finding a place to play."
Jack later went on to sing in the band DIRGE. A crossover band from Jersey which rules as well. I might make a post about them soon.
I love this band. great, fast, catchy, early Jersey Hardcore. I've been listening to this quite a bit lately.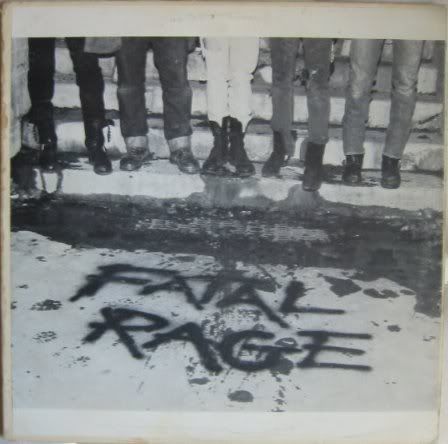 Fatal Rage-Fatal Rage
1.Struggle
2.Assualt
3.Jump And Die
4.Die Lady Die
5.Fatal Mistake
6.V.O.A.
7.Copy Bands
8.I'm Appalled
9.Yelling
10.Wartime
11.Kick That Kicker